Danny Garcia vs. Zab Judah Set for Saturday!
By FightFan News Wire (22-Apr-2013)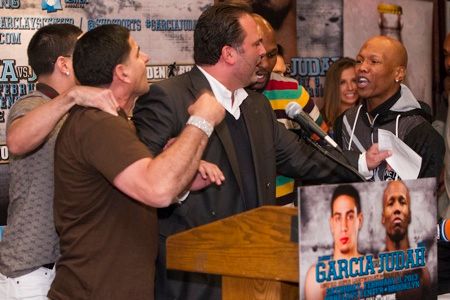 Photo Credit: Esther Lin / SHOWTIME
Tensions flared over the last few months as Unified Super Lightweight World Champion Danny 'Swift' Garcia and former Four-Time and Two-Division World Champion Zab 'Super' Judah geared up for their Saturday, April 27 world championship fight at Barclays Center in Brooklyn, which will be televised live on SHOWTIME CHAMPIONSHIP BOXING. Garcia, Judah and their camps had to be separated mid-way through the initial press conference at Gallagher's Steakhouse in New York City after Garcia's father Angel made comments while addressing the media. Judah took offense to Angel's promise that his son, the WBA Super, WBC and Ring Magazine Super Lightweight World Champion would knock out the Brooklyn native. Garcia vs. Judah , a 12-round bout for Garcia's Unified Super Lightweight World Championship, is presented by Golden Boy Promotions and supported by Golden Boy Promotions sponsor Corona.

Recent Posts:
6 Responses to "Danny Garcia vs. Zab Judah Set for Saturday!"
Disclaimer: FightFan.com will NOT be held responsible for ANY of the content appearing in the following discussion, but will do it's best ensure that the discussion stays relevant, beneficial, and acceptable to the readers of this site.
Leave a Reply
Note: We love to hear everyone's say, good or bad, but please try to keep your comments classy. Racist, sexist, homophobic, and otherwise tasteless remarks will not be tolerated. If you wish to ensure that your comments are posted right away (and not held for moderation) avoid using questionable language.
FightFan.com reserves the right to withhold, delete, and edit any comments which do not seem suitable to the discussion. FightFan.com also reserves the right to permanently ban any user that posts any comment that is deemed as unacceptable.