Teofista Boxing Series 18: Canadians Janks Trotter and Stuart McLellan to clash for C.P.B.C. 154-pound title Feb. 26!
By FightFan News Wire (12-Feb-2016)
Feb. 26 in Calgary, AB Janks Trotter and Stuart McLellan clash for Canadian junior middleweight title. Co-main Event Battle of Unbeaten Alberta Prospects Connor Bush vs. Mike McWilliams, Roxi Lam vs. TBA, Alejandro Torres Rynn vs. Robert Nelson, Devin Reti vs. Dia Grant, Mike Smallwood vs. Aaron Gallant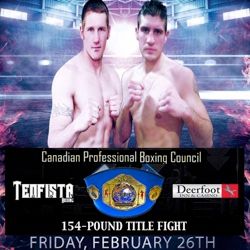 Professional boxing is set to return to Calgary, Alberta, Canada with a BANG on Friday, Feb. 26 when Teofista Boxing returns to the Deerfoot Inn & Casino where it will present the eighteenth installment of it's popular LIVE boxing series.
Teofista Boxing Series 18 will be headlined by a C.P.B.C 154-pound title clash between big punching Janks Trotter (9-2-1, 9 KOs) of Alberta taking on road warrior Stuart McLellan (12-2-3, 3 KOs) of British Columbia. High stakes as a top twenty world ranking with the World Boxing Organization will be bestowed upon the winner.