Dierry Jean vs. Terence Crawford HBO video preview!
By FightFan News Wire (06-Oct-2015)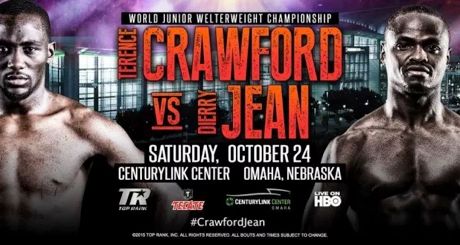 Video courtesy of HBO
Undefeated two-division world champion and the reigning Fighter of the Year, TERENCE "Bud" CRAWFORD, Omaha's favorite son, will make a homecoming defense of his World Boxing Organization (WBO) junior welterweight title against one-time world title challenger and current No. 2 world-rated contender, DIERRY "ALL IN" JEAN, Saturday, October 24, at CenturyLink Center Omaha (455 North 10th St., Omaha, Neb. 68102). The championship event will be televised live on HBO World Championship Boxing, beginning at 9:30 p.m. ET/PT.