Tim Bradley Saved By The Final Bell in an Absolute WAR With Ruslan Provodnikov!
By Ace Freeman (16-Mar-2013)
Tim Bradley W UD12 Ruslan Provodnikov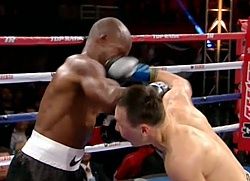 Undefeated WBO welterweight champion and Top-10 pound for pound fighter Timothy 'Desert Storm' Bradley Jr. survived an all-out war against big punching Ruslan Provodnikov moments ago in Carson, CA when he was saved by the final bell after being knocked down in the final seconds of a brutal contest. It was a big victory for Bradley as he fought Provodnikov's fight the entire way and nearly paid dearly for it on several occasions. Provodnikov came roaring out in the opening round and hurt Bradley very badly. Bradley slunk to the canvass late in the stanza (questionably ruled a slip) and in was in a world of trouble. It carried on to Round 2 where Provodnikov continued to go for broke but Bradley showed tremendous resolve to survive. Remarkably, Bradley came back in Rounds 3 through 5 and started to box the challenger's socks off. However, late in Round 6 Provodnikov had Bradley out on his feet yet again but couldn't put him away.

Bradley rebounded once again and boxed well down the stretch. Provodnikov's eyes were swelling shut late in the fight and despite a big Round 9 from Bradley the gallant opponent just wouldn't yield and still came back with big punches of his own. It was an all-out war in Carson.
Provodnikov pressed hard in Round 11 and in the final round he went for broke.
Unwisely, Bradley tried to trade to close the show in what was a close fight and he was hurt badly in the final moments. Provodnikov pressed and finally clubbed Bradley down in the last ten seconds.
The consummate warrior, Bradley beat the count and survived the round, and the fight.
Scores were read as 114-113 (x2) and 115-112… all for the defending champion Timothy Bradley.
Despite the impressive and gutsy win controversy ensued as referee Pat Russell clearly missed calling a knockdown against Bradley in Round 1 that would have rendered the fight a draw on the two of three scorecards.
The win moved Bradley to 29-0 (12 KOs) while Provodnikov drops to 22-1 (15 KOs) suffering his first pro loss.
The defeat was a tough pill to swallow for famed trainer Freddie Roach, who was looking to avenge an extremely controversial loss to Bradley by his star fighter Manny Pacquiao in early 2012, a bout many feel Pacquiao dominated.
Bradley retained his WBO welterweight title with the victory and shook of nearly a year of inactivity with the thrilling victory.