Canadian Pinoy Bantam Prospect Marc Pagcaliwangan Moves to 4-0 (4 KOs) with TKO Victory in Montreal
By Ace Freeman (22-Mar-2013)
Marc Pagcaliwangan TKO 1 Jose Adan Fernandez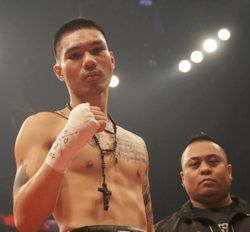 Photo Pierre Lavoie – Way Productions
It was a short but sweet night for Filipino-Canadian bantamweight prospect Marc Pagcaliwangan who moved his unbeaten record to 4-0 (4 KOs) as a professional Friday night in Montreal, Canada when his opponent Jose Adan Fernandez retired after three minutes with a broken hand. Pagcaliwangan started fast in the bout and used his jab to establish distance. Fernandez was game but the Canadian seemed to have a clear edge in both speed and power. Both men landed some good shots in the opening round but Fernandez seemed to injure his hand attacking Pagcaliwangan's mid section. After the first round was over he was forced to retire with what was reported as a broken hand, giving Pagcaliwangan the TKO victory.
Click here for a post fight interview with Marc from Way Productions!
Recent Posts:
Leave a Reply
Note: We love to hear everyone's say, good or bad, but please try to keep your comments classy. Racist, sexist, homophobic, and otherwise tasteless remarks will not be tolerated. If you wish to ensure that your comments are posted right away (and not held for moderation) avoid using questionable language.
FightFan.com reserves the right to withhold, delete, and edit any comments which do not seem suitable to the discussion. FightFan.com also reserves the right to permanently ban any user that posts any comment that is deemed as unacceptable.