Canada's Arash Usmanee: Fight Week Interview Ahead of His ESPN Headlining Bout Friday Jan. 4th in in Miami, Florida!
By Pierre Lavoie / Way Productions (30-Dec-2012)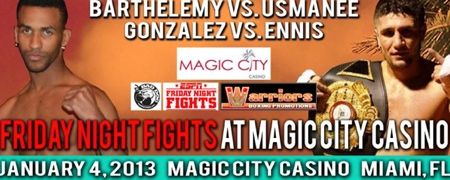 Video: Pierre Lavoie – Way Productions

This coming Friday, January 4, 2013, fast rising Canadian super featherweight Arash Usmanee (20-0, 10 KOs) will headline ESPN's Friday Night Fights when he takes on towering Cuban dynamo Rances 'Kid Blast' Barthelemy (17-0, 11 KOs). Pierre Lavoie caught up with Arash who is ready to depart Montreal for the biggest fight of his life. See what Arash had to say less than a week out from fight night! Also check out what Coach Dan Trépanier of Team Usmanee had to say about the big fight.

Recent Posts:
Leave a Reply
Note: We love to hear everyone's say, good or bad, but please try to keep your comments classy. Racist, sexist, homophobic, and otherwise tasteless remarks will not be tolerated. If you wish to ensure that your comments are posted right away (and not held for moderation) avoid using questionable language.
FightFan.com reserves the right to withhold, delete, and edit any comments which do not seem suitable to the discussion. FightFan.com also reserves the right to permanently ban any user that posts any comment that is deemed as unacceptable.