Canada's Arash Usmanee: Fight Week Interview Ahead of His ESPN Headlining Bout Friday Jan. 4th in in Miami, Florida!
By Pierre Lavoie / Way Productions (30-Dec-2012)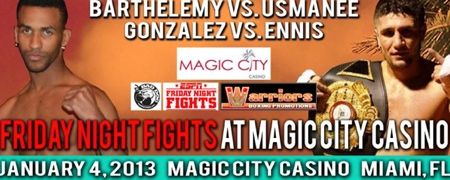 Video: Pierre Lavoie – Way Productions

This coming Friday, January 4, 2013, fast rising Canadian super featherweight Arash Usmanee (20-0, 10 KOs) will headline ESPN's Friday Night Fights when he takes on towering Cuban dynamo Rances 'Kid Blast' Barthelemy (17-0, 11 KOs). Pierre Lavoie caught up with Arash who is ready to depart Montreal for the biggest fight of his life. See what Arash had to say less than a week out from fight night! Also check out what Coach Dan Trépanier of Team Usmanee had to say about the big fight.