Sensational Drian Francisco Batters a Gallant Javier Gallo in a Fight of the Year Candidate!
By Ace Freeman (17-Nov-2012)
Drian Francisco TKO 5 Javier Gallo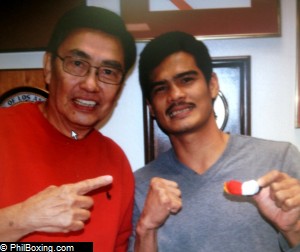 It was a grand coming out party for the Philippines' Drian Francisco, a monster punching super bantamweight, earlier this evening in Los Angeles in a jaw dropping fight seen on the Viloria-Marquez undercard on Wealth TV. In a barn burner of a preliminary bout, Francisco got everything he could handle from Tijuana's Gallo who jumped all over the Filipino in the opening round putting it on his man like white on rice. Gallo's pressure was relentless and he was going for the kill in Round 1, but the sharp punching Francisco countered well off the back foot with hard knockout caliber punches. Gallo ate some hellacious punches that would have knocked most men out and somehow managed to continue pressing forward at an insane pace. Equally remarkable was Francisco's ability to withstand Gallo's tenacious output. Both men hammered away at an inhuman rate in the first three rounds which thrilled the local crowd in attendance.
Francisco's blows were so hard everyone watching seemed to feel Gallo would go down at any moment, but the Mexican continued to take everything the Filipino dished out.
Finally in Round 4 the tide seemed to turn and it looked like Gallo's terminator showing was going to break Francisco down who started to show signs of wearing. Gallo showed no signs of slowing down and he won the fourth round convincingly.
In Round 5 both men picked up where the left off but suddenly Francisco stormed back and for the first time in the bout began to walk Gallo back.
The crowd was going insane as the five round war began to intensify. Suddenly the ultra durable Gallo showed signs of breaking and Francisco smelled blood. He began to throw haymakers in succession until a big left hand punished Gallo into the ropes at the end of the round. Perhaps betrayed by his own ability to take punches without going down, the referee wisely stepped in and saved Gallo from himself, giving Francisco the sensational stoppage win.
The victory improved the big punching Filipino to 24-1-1 (19 KOs) while Gallo slips to 18-6 (10 KOs).
FightFan.com's good friend Dr. Ed de la Vega was working Francisco's corner as cutman and did the translation for the post fight interview.