Problematic: Broner Superb Brutally Dismantling DeMarco!
By Ace Freeman (17-Nov-2012)
Adrien Broner TKO8 Antonio DeMarco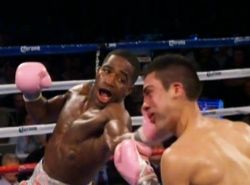 A flashy and flamboyant Adrien 'The Problem' Broner made good on his pre-fight bravado and absolutely outclassed lightweight world champion Antonio DeMarco in a virtuoso performance at Boardwalk Hall in Atlantic City, New Jersey as seen live in the main event of HBO World Championship Boxing®. Broner came out fast and controlled the early action with fast, one-punch at a time power shots. Both men were cautious in the early going, looking to make single punches count as to not leave themselves open to be countered. The action intensified in the fourth as both men stood flat-footed in the centre of the ring. Broner stood inside with DeMarco rolling with his Mayweather-style defensive posture which allowed him to land an array of stunningly fast uppercuts and hooks at close range. He picked it up in the fifth and used a surgeon's accuracy to dismantle DeMarco at every turn. It was quickly turning in to target practice.
While DeMarco's corner considered stopping it between Rounds 5 and 6, the gallant Mexican demanded he be allowed to continue. He went out for the sixth where the one sided action continued. Broner continued to sharp shoot as DeMarco did his best to hold on under heavy fire.
It was more of the same in Round 7 and in the eighth Broner's deadly accuracy finally took it's toll and DeMarco was sent to the mat for the first time in his career after a huge left hook landed.
The gallant Mexican's corner threw in the towel to save their fighter who had taken way too much punishment up to that point.
With the big win Broner improves to 25-0 (21 KOs) and captures the WBC lightweight title in his first bout in that division while DeMarco drops to 28-3-1 (21 KOs).
Recent Posts:
2 Responses to "Problematic: Broner Superb Brutally Dismantling DeMarco!"
Disclaimer: FightFan.com will NOT be held responsible for ANY of the content appearing in the following discussion, but will do it's best ensure that the discussion stays relevant, beneficial, and acceptable to the readers of this site.
Anwar Jamison Says:


Now that's how you make a statement! Hats off to Broner. He took his time in a fight where some fighters might have tried to do too much early.  We have the next decade to look forward to seeing where his career goes.

November 18th, 2012 at 11:18 am


---

Nemeneke Says:


career wouldn't go anywhere.he's trying to be like floyd and he really isn't ……..

November 20th, 2012 at 8:25 pm


---
Leave a Reply
Note: We love to hear everyone's say, good or bad, but please try to keep your comments classy. Racist, sexist, homophobic, and otherwise tasteless remarks will not be tolerated. If you wish to ensure that your comments are posted right away (and not held for moderation) avoid using questionable language.
FightFan.com reserves the right to withhold, delete, and edit any comments which do not seem suitable to the discussion. FightFan.com also reserves the right to permanently ban any user that posts any comment that is deemed as unacceptable.