Big Flyweight Unification Bout Set for Saturday in Los Angeles: Brian Viloria vs. Hernan Marquez!
By FightFan News Wire (16-Nov-2012)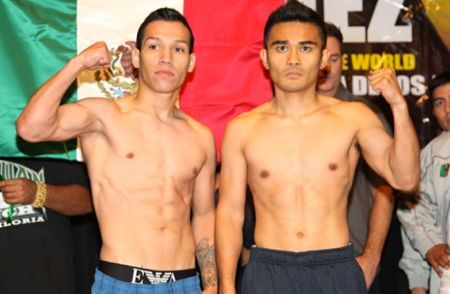 Photo courtesy of Zanfer Boxing
This Saturday,November 17, The WBO and WBA world flyweight titles will be on the line in an eagerly anticipated unification championship when Brian 'Hawaiian Punch' Viloria (111.8 lbs) and Hernan 'Tyson' Marquez (110.8 lbs) meet head to head at the Los Angeles Sports Arena in Los Angeles, CA. The all-action card will be available live at WealthTV.com. WealthTV is available on Verizon FiOS TV (channels 169 and 669 in HD), AT&T U-Verse TV (channels 470 and 1470 in HD), along with over 100 cable systems across the country.

Recent Posts:
Leave a Reply
Note: We love to hear everyone's say, good or bad, but please try to keep your comments classy. Racist, sexist, homophobic, and otherwise tasteless remarks will not be tolerated. If you wish to ensure that your comments are posted right away (and not held for moderation) avoid using questionable language.
FightFan.com reserves the right to withhold, delete, and edit any comments which do not seem suitable to the discussion. FightFan.com also reserves the right to permanently ban any user that posts any comment that is deemed as unacceptable.