Enhanced Performance: The NATURAL progression of Manny Pacquiao from Light Flyweight to Welterweight
By Ace Freeman (21-Sep-2011)
Ace Freeman takes an in depth look at Floyd Mayweather Jr.'s suspicion surrounding Manny Pacquiao and his physical evolution from light flyweight to welterweight as the two fighters continue to face growing scrutiny from fans and media alike who are longing to see their much anticipated historic showdown.
Let me start out by saying that I have no problem with Floyd Mayweather Jr. insisting Manny Pacquiao be tested for performance enhancing drugs if they are to meet in a super fight in the near future. While I don't like the way he originally went about it insisting (with no evidence to support his claim) that Pacquiao has used or is currently using PEDs, he is entitled to his opinion and he's free to think whatever he wants. What I do have a problem with is some of the skewed and false logic he's been using lately every time the topic is brought up. Most specifically, his repeated notion that Manny Pacquiao is a 105 pound fighter who suddenly grew into a welterweight with Incredible Hulk like punching power. It is my contention that Mayweather and Pacquiao are and always have been (relatively speaking) the same size.
---
Mayweather on Manny Pacquiao:

Floyd and Manny through the years: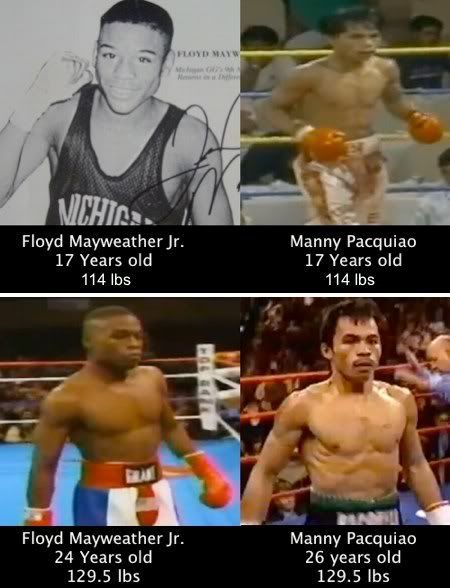 Floyd Mayweather: "To say a guy goes from 105 pounds to this (welterweight), and it's all natural … come on, man…"

Manny Pacquiao made his pro debut against Edmund Enting Ignacio in January of 1995. He was 16 years old at the time and weighed in at 106 pounds. At 16 years old Floyd Mayweather Jr. won the 1993 USA National Golden Gloves tournament in the 106 pound division.
At 17 years old Manny Pacquiao climbed in to the ring in May of 1996 against John Medina and weighed 114 pounds. At the same tender age of 17 Mayweather captured a USA National Golden Gloves title again, this time at (you guessed it) 114 pounds.
The biggest difference between Pacquaio and Mayweather early in their careers is that Floyd opted to turn pro at 19 years old (after attending the 1996 Olympics where he won a bronze medal at 125 pounds) as a lightweight in his first professional fight in November of '96 (where he weighed in at 131 pounds). Mayweather remained at 130 pounds from his pro debut until 2002 when he ventured to lightweight as a 25 year old.
Pacquiao (who as mentioned above) turned professional in the Philippines at 16, remained between 114 pounds and 126 pounds from ages 20 through 25 until he met Erik Morales for the first time in his first foray at 130 pounds.
Thus in their mid 20's both men were fighting at natural weights for their body type in and around the junior lightweight / lightweight divisions.
At 27 years old Mayweather took his first fight at 140 pounds against Demarcus Corley. Pacquiao made his first jump north of light welterweight when he fought Oscar De la Hoya at 29 years old tipping the scales at 142 pounds in what was officially a sanctioned welterweight contest.
Both men entered and spent their early 30's as welterweights where we find both of them remaining to this day. Both fighters claim their "walk around weight" to be in the high 140's and both men admittedly have an easy time making the welterweight limit of 147 pounds.
In his last three fights to date Mayweather has weighed 146, 146 and 146.5 pounds respectively to 145.75, 144.5 qnd 145 for Pacquiao in his last three outings.
As someone who has spent time in each of their training camps for the last six years, I can tell you unequivocally that these men are naturally very close to the same size. Floyd is slightly taller and longer while Manny is thicker with bigger legs.
In no way is this a case where Mayweather is a naturally bigger man while Pacquiao has sculpted and bulked up to walk around at the same weight. They are and always have been very close to the same size naturally.
Further to this point is the above graph compiled by a poster on Philboxing.com's forum that details Manny Pacquiao's weight in the ring on fight night vs. the weight division limit he depletes down to when "making weight" 24 hours before the bout. The graph runs from 2006 to 2009 but it serves the purpose of illustrating that Pacquiao has naturally been a light welterweight / welterweight for a good portion of his career despite sucking down to lower weight classes.
Even as far back as his first fight at 130 pounds (when he was 26 years old) in 2005 against Erik Morales, Pacquiao weighed in at 129.5 pounds on Friday afternoon, but entered the ring at 139 pounds 24 hours later on fight night.
To provide context, in his last outing against Shane Mosley he checked in at 149 pounds on HBO's unofficial scale just prior to entering the ring.
That is a difference of less than ten pounds in seven years, nothing out of the norm for a professional boxer as they age from their 20's to their 30's.
When we look at a 25 year old Floyd Mayweather in 2002, we find him entering the ring on HBO's unofficial scale at 138.5 pounds for his first fight against Jose Luis Castillo. When we fast forward seven years later (as we just did with Pacquiao above) we find Mayweather weighing in the high 140's on fight night.
What this illustrates is that Manny Pacquiao has been walking around between 138 – 148 pounds once settling in to his adult frame regardless of what weight division he was cutting down throughout his 20s in the earlier stages of his professional boxing career.
There never really was a dramatic and suspicious sudden jump in Pacquiao's body mass as is indicated at times by Floyd Mayweather and some casual boxing fans.
Floyd Mayweather: "If I was to go to heavyweight right now and compete with the Klitschkos… everyone would say Floyd's on something. But this man can come from 105 to 154… and they say it's all natural. Come on man… wake up!"

The other point often repeated by Floyd is that Pacquiao's knockout power – specifically pointing to his time at and above 140 pounds – is both suspicious and unnatural.
At or above 140 pounds:
Floyd Mayweather Jr. has eleven fights: 11-0 (5 KOs)
Manny Pacquiao has six fights: 6-0 (3 KOs)
They share a common knockout victim in Ricky Hatton.
The other two knockouts for Pacquiao were Oscar de la Hoya and Miguel Cotto, both of whom he stopped on their feet after sustained and prolonged beatings.
Miguel Cotto would be the biggest fighter Pacquiao has stopped to date, and while he did not step on HBO's unofficial scale before his fight with Pacquiao, he was believed to be between 155 and 160 pounds in the ring that night.
Mayweather's four stoppages (beyond Hatton) above 140 pounds are: Henry Bruseles, Arturo Gatti, Sharmba Mitchell and Victor Ortiz. That would peg Ortiz in Floyd's recent outing last week as the biggest man he's ever stopped as 'Vicious' Vic clocked in at 164 pounds and Floyd put him down for a full ten count.
Floyd Mayweather: "Sugar Ray Leonard, we knew he was going to be great from his Olympic days. Michael Jordan, we knew from college he was going to be a great professional.Floyd Mayweather, from the beginning of his career in the '90s, we knew he was going to be a great professional. Now ask yourself, a fighter just don't get to 25 years old and all of a sudden he becomes great…"
Floyd has presented this argument a few times before but this specific quote was from the video I recorded of him during the post fight presser after the Ortiz fight last weekend.
Again I'm not trying to suggest Floyd isn't entitled to his opinion, but it felt fairly obvious to me that the major flaw in this line of thinking was that he was in Las Vegas (USA) talking about American athletes in professional sports that receive prime time coverage by major American media outlets.
Is it really a surprise we didn't hear about a 16 – 22 year old Manny Pacquiao fighting in the Philippines on ESPN's Sport Center?
We didn't know anything of Manny Pacquiao at an earlier age because he was fighting regionally in southeast Asia.
While I don't intend to argue Manny was a prodigy at 16 years old, he was certainly VERY highly regarded at that time by the boxing community in the Philippines. Every one of his early fights were televised and many of them featured my good friend and veteran broadcaster Ronnie Nathanielsz doing commentary. You can watch these fights on Youtube by searching for "No Fear: The Manny Pacquiao Story" which chronicles the first half of Manny's career. Even in these early fights it is repeatedly mentioned that Pacquiao is a fighter that was then being covered with great interest by major news outlets in the Philippines.
This fact is also underlined for me by two separate conversations I've had with men instrumental in Manny Pacquiao's early career.
I met Rick Staheli with my FightFan.com collegue Joe Bruiser during our first trip to see Manny Pacquiao fight live when he faced Erik Morales for the first time in 2005. A year before the birth of FightFan.com, Joe and I were outside the media center peeking in, trying to see more of the action. We saw a man standing in the entrance way of the Grand Garden Arena and struck up a conversation.
Rick told us all about his days as Pacquiao's trainer in the early years of his career. He was instrumental in his early success before the 'Pacman' hooked up with Freddie Roach in North America, and was in his corner when the Filipino legend beat Chatchai Sasakul to win his first major world title in 1998. I remember asking Rick if he recognized the potential in Manny early on and he answered with a resounding yes, telling us we hadn't seen anything yet.
Another conversation I had more recently about Manny's early days was with veteran referee Bruce McTavish who is widely revered as an officiating guru among many of the most respected referees around the world. A veteran of over 150 world title bouts, McTavish has been the referee for many of Pacquiao's early bouts and he echoed the sentiments we heard from Staheli (who as chance would have it, is a good friend of his).
"Yes it was very easy to tell there was something special about him right from the start," McTavish told me earlier this year in Cebu, Philippines. "But it was really the development of his right hand during his time with Roach that really put him at the next level."
No one hammered this point home for me more so than Manny Pacquiao himself. After a January 2010 invite to attend one of his training sessions as he prepared to face Joshua Clottey, Pacquiao recounted the key factor in his recent evolution as a pugilistic marvel.
"Knowledge + power!" Pacquiao repeated that day like it was a mantra. "First the power is there but now there is knowledge!"
It was a validation of all the hard work he and trainer Freddie Roach have put in during the last five years developing Pacquiao's right hand to be nearly on par with his deadly left. An exercise in training and strategy that can clearly be seen evolving from 2005 onward along with his graceful and cunning footwork and much improved defense.
Knowledge + power… sounds familiar. Or how about HARD WORK and DEDICATION!
Epilogue:
Again I'm not looking to take anything away from Mayweather, or to pass judgment on his demands that Manny Pacquiao submit to random Olympic style drug testing leading up to their proposed fight that the world wants to see.
I do feel that Floyd is entitled to his opinion and if he's truly suspicious that Pacquiao or anyone else could potentially be using performance enhancing drugs I think it's his prerogative to request that anyone who faces him submit to additional testing.
I don't approve of his direct insinuations that Pacquiao is a PED user without any proof or (as I feel I've indicated above) his poor logic to back that claim up. I understand, in turn, why Pacquiao was upset and initially refused.
At this point I hope above all else that Manny will make good on what he always points out to be his number one objective of making the people happy. If I could tell him one thing it would be: "Please Manny, take the test and kick his ass!"
As for Floyd, who I admire inside the squared circle just as much as I do Pacquiao, I just pray that when and if negotiations resume for a potential 2012 super fight against Pacquiao that he will move forward (should Manny agree to the testing) without further issue. It's time to shine Floyd and if you're truly better than Manny as you are very adept at pointing out, get in the ring and shine!
Ace Freeman is the head writer at FightFan.com and can be reached at ace@fightfan.com